Linear drains have become a popular choice for barrier-free showers due to their ability to combine accessibility and aesthetics seamlessly. Barrier-free showers, also known as curbless showers or walk-in showers, are designed to provide easy access for people with mobility challenges, seniors, and anyone who prefers a modern and open shower design. Here's how linear drains contribute to achieving both accessibility and aesthetics in barrier-free showers:
Accessibility: Linear drains are typically installed flush with the shower floor, creating a level surface that eliminates the need for a traditional shower curb. This design allows easy access for wheelchair users or individuals with limited mobility to enter and exit the shower without any obstacles. The flush installation also prevents tripping hazards, making it safer for everyone, including children and the elderly.
Efficient Water Drainage: Linear drains are designed to efficiently drain water across the entire width of the shower. Unlike traditional center drains, which can sometimes lead to pooling water near the walls, linear drains ensure that water is quickly and effectively directed towards the drain, preventing any potential flooding or water leakage.
Versatile Placement: Linear drains can be installed along the shower entrance or at the back wall, providing flexibility in shower design. Placing the drain at the entrance creates a seamless transition between the bathroom floor and the shower area, making it more accessible. On the other hand, installing the drain at the back wall allows for a more discreet and visually appealing shower design.
Contemporary Aesthetics: Linear drains offer a sleek and modern appearance that complements contemporary bathroom designs. Their slim and unobtrusive profile enhances the overall aesthetic appeal of the shower area, creating a sophisticated and luxurious look.
Tile Integration: One of the standout features of linear drains is the ability to integrate them with various tile patterns. Tile or stone can be cut to fit precisely into the drain's narrow trench, creating a seamless and cohesive look that blends with the shower floor. This tile integration enhances the overall aesthetics of the shower and adds a touch of sophistication.
Easy Maintenance: Linear drains are easy to clean and maintain. Their long and narrow design allows for quick access to the drain for cleaning, and many models come with removable grates or filters that catch hair and debris, preventing clogging and ensuring smooth drainage.
Design Flexibility: Linear drains are available in various materials, finishes, and sizes, allowing for customization to suit different bathroom styles and preferences. Homeowners and designers have the freedom to choose a linear drain that complements the overall bathroom design and meets specific aesthetic requirements.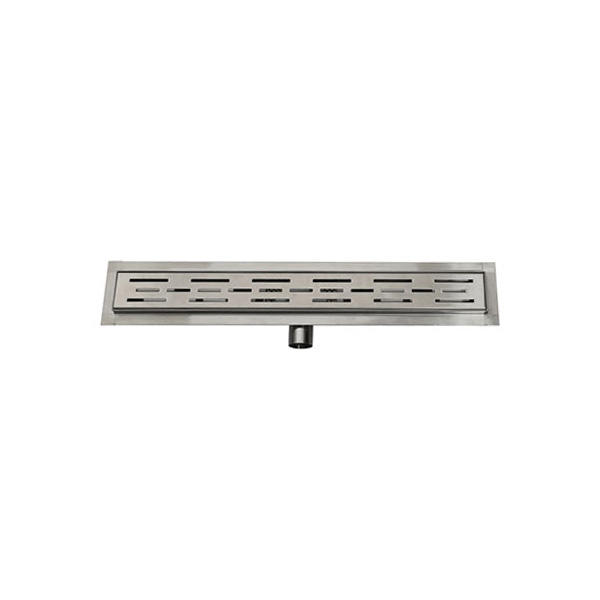 In conclusion,
linear drains
have gained popularity in barrier-free showers due to their ability to combine accessibility and aesthetics effectively. Their flush installation, efficient water drainage, versatile placement options, contemporary aesthetics, tile integration, easy maintenance, and design flexibility make them an excellent choice for creating accessible and visually appealing barrier-free shower spaces. Whether in residential or commercial settings, linear drains provide an elegant solution that enhances both the functionality and beauty of the bathroom.