A
linear shower drain
is a simple yet stylish way to add style to a shower. They can be located at the center of the floor or along one wall of the shower. Their linear design makes the floor of the shower gently slope toward the drain. Linear drains are available in a variety of lengths and are typically installed in a residential bathroom.
This drain type provides a minimalist and seamless look, maximizing the flow of water to the exit port. They have been used in the commercial plumbing industry for years, but are increasingly making their way into residential bathrooms. The design is both functional and beautiful and has become a popular choice for hotels. Here are some of the benefits of this new style of drain:
Linear shower drains provide a cleaner and more hygienic alternative to four-cornered sloped drains. They are more flexible, as they allow the use of larger tiles on the shower floor. Additionally, the drain can be hidden under a grate or tiled with the same design as the floor surrounding it.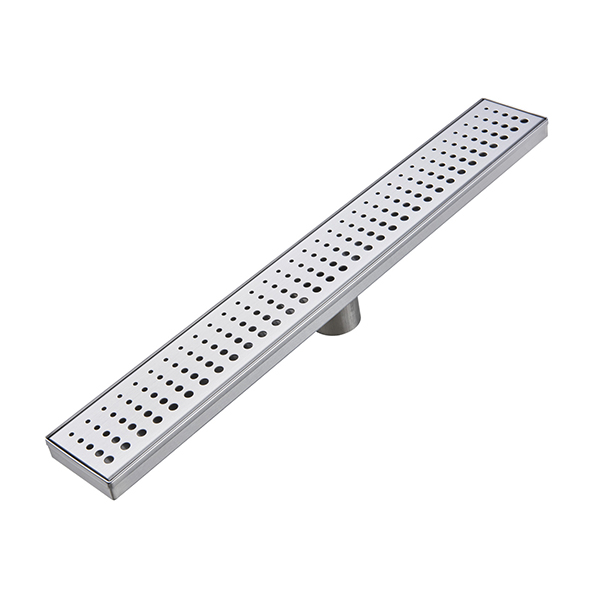 CY85 Factory Directly Sale stainless steel 304 Polished with Adapter linear slot drains
| | |
| --- | --- |
| Thickness | 1.2mm for basement and 1.5mm for patterns. |
| Size in inch | 24",26",28",32",36",40",48",60" in length, the width is 3-3/8". |
| Size in mm | 600mm, 900mm, 1200mm, 1500mm in length the width is 85mm. |
| Outlet | 40mm/ 50mm, vertical outlet and plastic siphon design. |
| Capacity | 40L/min Additional outlets may be added to increase flow rate |
| Surface finished | Satin finished, Polished finished, golden finished and bronze finished. |
| Accessories | Lifting key and strainer including, adjust legs, Adapter and all else for options. |
| Customization | All size accepted by custom made. |