A
recessed linear drain
in the wall or floor is a two-piece system that's virtually invisible. It's easy to install and features a bonded waterproofing membrane. It's a perfect solution for small or large format tile applications with a single slope to the drain. These floor drains are suitable for interior or exterior applications.
Recessed linear drains are made of a sturdy stainless steel body with a bottom outlet. They are suitable for bathrooms and showers. They are particularly adaptable to square or rectangular floor patterns. They can be attached to waste pipes with glue or a no-hub connection. Another option is to install the drain on a subfloor with a cleavage membrane.
These linear drains come in a variety of styles and finishes and are almost invisible when installed. They're highly effective in removing water and preserving the integrity of the floor. They come in a variety of sizes and can be customized to suit any application. You'll also be able to choose the color and finish of the linear drain according to your needs.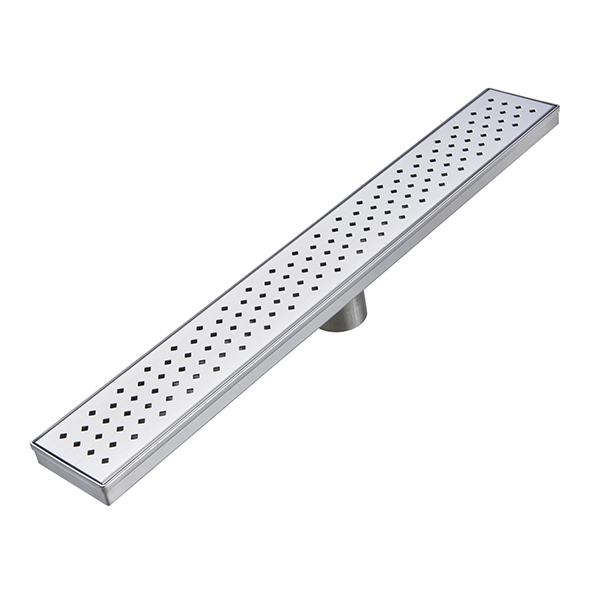 DM85 Professional 60-Inch STAINLESS STEEL linear drains shower with adjust legs
| | |
| --- | --- |
| Thickness | 1.2mm for basement and 1.5mm for patterns. |
| Size in inch | 24",26",28",32",36",40",48",60" in length, the width is 3-3/8". |
| Size in mm | 600mm, 900mm, 1200mm, 1500mm in length the width is 85mm. |
| Outlet | 40mm/ 50mm, vertical outlet and plastic siphon design. |
| Capacity | 40L/min Additional outlets may be added to increase flow rate |
| Surface finished | Satin finished, Polished finished, golden finished and bronze finished. |
| Accessories | Lifting key and strainer including, adjust legs, Adapter and all else for options. |
| Customization | All size accepted by custom made. |