A
long floor drain
can be installed in many locations, including bathrooms and kitchens. It provides an effective method for removing water from these areas and prevents unpleasant odors from escaping. Another benefit of a long floor drain is that it keeps insects and rats out of your home. Made of stainless steel, these floor drains are also ideal for garages, squares, and other interior areas.
While floor drains are often overlooked, their essential function makes them a design feature. The special shape of floor drains helps them adapt to any surface treatment, and they have a perforated cover that helps the water flow away. Depending on the type, floor drains may be either embedded in the floor or ground, or they may have a removable filter.
One type of long floor drain is the linear drain channel. This option has a sleek, modern appearance and is easy to clean. It has a rectangular shape and a tile slab on top and a recessed tray below. It also has a side hole for easier cleaning. It also has a more open design and can be adapted to accommodate mobility aids or wheelchairs.
Another type of floor drain is a long slab. These slabs can be installed along the shower edge or flat against a wall. Unlike traditional square or circular floor drains, long slabs offer greater design flexibility. With a long floor drain, you don't need to worry about the tiles matching your tile pattern and color.
Choosing the right floor drain is an essential part of bathroom remodeling. Your bathroom should be functional, yet pleasing to the eye. You can choose from a variety of types of long floor drains and grating. They are durable and easy to install, and can be used in both residential and commercial settings. There are also drains designed for heavy industrial environments.
Floor drains can be located in many locations in the home, including basements and bathrooms. They are also commonly installed in kitchens and laundry rooms. You can even place them near swimming pools. These drains help keep your home sanitary, and can also improve its appearance. They are a great way to keep your home looking clean and smelling fresh.
Long floor drains are also available with a full grate or a partial grate. These floor drains are designed to accommodate the installation of indirect waste pipes. Most of these floor drains also have a dome strainer in the bottom. They are made from stainless steel, epoxy-coated cast iron, and PVC. So whether you have a sink or floor drain, make sure that it is compatible with the pipes in your home.
A long floor drain is an important feature of any shower. It is important to remember that every surface in the shower area is pitched toward the drain in order to drain water properly. If you don't have a floor slope that is level, you might have trouble installing a long floor drain. You'll want to hire an expert for the installation because it can be tricky.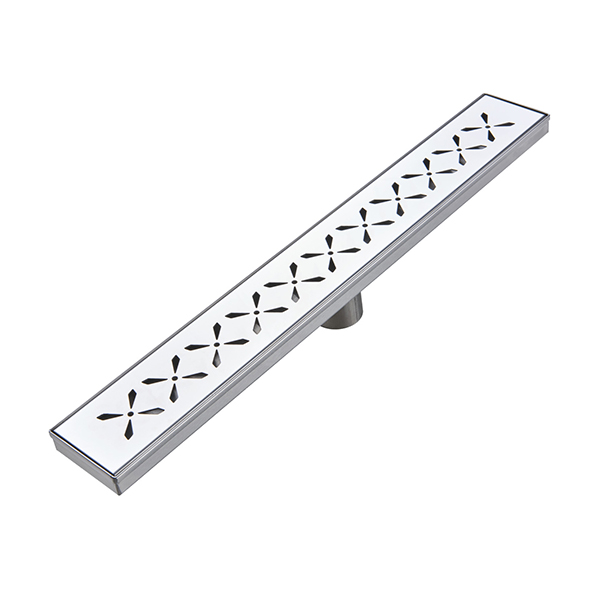 | | |
| --- | --- |
| Material | All stainless steel 316 or 304. |
| Thickness | 1.2mm for basement and 1.5mm for patterns. |
| Size in inch | 24",26",28",32",36",40",48",60" in length, the width is 3-3/8". |
| Size in mm | 600mm, 900mm, 1200mm, 1500mm in length the width is 85mm. |
| Outlet | 40mm/ 50mm, vertical outlet and plastic siphon design. |
| Capacity | 40L/min Additional outlets may be added to increase flow rate |
| Surface finished | Satin finished, Polished finished, golden finished and bronze finished. |