Recessed Linear Drains
are one-of-a-kind floor drains that are designed to be invisible and easy to install. They are two-piece floor drain systems with a waterproofing membrane that are designed for interior and exterior applications. These drains are ideal for bathrooms and kitchens with large and small floor tiles.
These drains are an excellent choice for curbless showers. They provide a single plane that makes the flow of water easier and eliminates the appearance of a threshold. Linear drains are also great for homes with open floor plans and large format tile. 
Recessed Linear Drains are available in different sizes and styles. Some of them are rectangular, while others have square or round shapes. Some are also available with a built-in flange for a secure bond with waterproof membranes.
Recessed Linear Drains are more versatile than their point cousins. These linear drains come in a variety of standard lengths to fit a variety of spaces and can be site-sized with additional drain connections. In addition, they feature a common outlet drain installation as well as a horizontal side outlet drain.
Recessed Linear Drains require a gentle slope of at least 1/4" per foot. This slope is necessary for proper installation. If the drain outlet is installed at the threshold of a shower, a glass door or raised curb will act as a barrier. This method will also ensure that water does not overflow into the dry area.
Recessed Linear Drains can also be used in bathrooms with uneven floors. The center drain is a common example. This type of drain drops water into a rectangular trough in the center of a shower area. This type of drain also requires a sloped floor. This slope will cause the floor to be uneven in different directions, which makes the floor look unlevel.
Recessed Linear Drains can be installed on the interior or exterior walls. They are a good choice for bathrooms, kitchens, and hallways. They make a visual statement and offer safety and hygiene.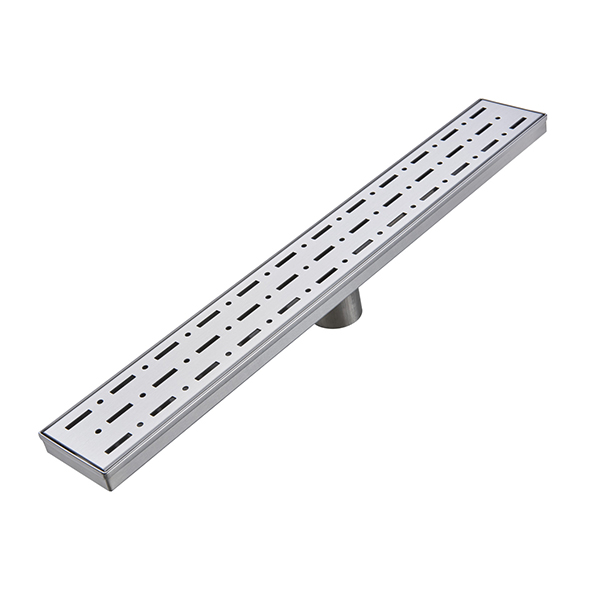 BS85 40mm/ 50mm STAINLESS STEEL SATIN TRENCH DRAINS
| | |
| --- | --- |
| Material | All stainless steel 316 or 304. |
| Thickness | 1.2mm for basement and 1.5mm for patterns. |
| Size in inch | 24",26",28",32",36",40",48",60" in length, the width is 3-3/8". |
| Size in mm | 600mm, 900mm, 1200mm, 1500mm in length the width is 85mm. |
| Outlet | 40mm/ 50mm, vertical outlet and plastic siphon design. |
| Capacity | 40L/min Additional outlets may be added to increase flow rate |
| Surface finished | Satin finished, Polished finished, golden finished and bronze finished. |
| Accessories | Lifting key and strainer including, adjust legs, Adapter and all else for options. |
| Customization | All size accepted by custom made. |