Linear shower drains
have many advantages. They require less maintenance and are ideal for showers that have a low slope floor. They also allow you to tile in many different formats. They are best installed wall-to-wall, so that water cannot pool in the corner of a shower. You can also get a custom-size drain if you need it. However, you should always keep in mind that a longer drain will require multiple outlets for effective water evacuation.
Another benefit of linear shower drains is their minimalist design. Unlike other types of shower drains, they do not require any grout or sealing. These drains can be purchased in different lengths and styles, and they are made from recyclable materials. They provide value and functionality for a high-end bathroom.
Linear shower drains can also be more appealing for homeowners who want to use larger shower floor tiles. As they slope evenly in one direction, they are easier to clean than others. In addition, they are designed to allow wheelchairs and mobility aids to be used. They also add a more cohesive look to a bathroom.
In addition to being beautiful, linear shower drains are more functional than ever. Designed to maximize water flow while minimalism, they are highly functional and are even considered a luxury plumbing choice. While the linear shower drain has been popular for a long time in commercial and institutional applications, it is now making its way into the home market.
Linear shower drains are more practical than center drains. The center drain must be positioned in a particular spot, while linear drains can be installed anywhere. These drains are also easier to clean. You can clean them easily with water and soap. They are also more durable than center drains.
Linear shower drains are a practical choice for most residential bathroom layouts. These drains have many advantages, but they are not perfect for all situations. They require a gentle slope on the floor. However, the longer length allows them to drain water faster than center drains. They are also easier to install.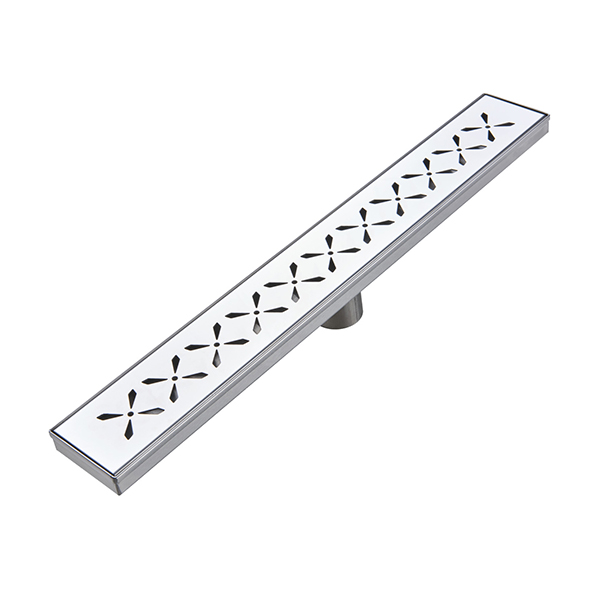 CR85 900mm STAINLESS STEEL FLOOR DRAIN
| | |
| --- | --- |
| Thickness | 1.2mm for basement and 1.5mm for patterns. |
| Size in inch | 24",26",28",32",36",40",48",60" in length, the width is 3-3/8". |
| Size in mm | 600mm, 900mm, 1200mm, 1500mm in length the width is 85mm. |
| Outlet | 40mm/ 50mm, vertical outlet and plastic siphon design. |
| Capacity | 40L/min Additional outlets may be added to increase flow rate |
| Surface finished | Satin finished, Polished finished, golden finished and bronze finished. |
| Accessories | Lifting key and strainer including, adjust legs, Adapter and all else for options. |
| Customization | All size accepted by custom made. |