If you are having trouble with your
bathroom floor drain
, there are several solutions available. These include the use of baking soda and vinegar, which contain an acid and a base that dissolves the clog. Before you start, it is important to wear rubber gloves because vinegar can be smelly. Also, you should remove the drain cover using a screwdriver. After you have removed the cover, scoop out the clog. Boiling water can be used to soften the soap and grease.
When cleaning out your floor drain, you should be sure to use a strainer. This will help prevent foreign objects and pests from entering the drain. Additionally, the strainer should be smooth enough so that hair and other objects cannot get stuck inside. If not, this could clog the drain. Alternatively, you could use a pipe cleaner or a hose to clear out the clog.
A floor drain is an essential component of a bathroom plumbing system. Its primary purpose is to remove excess water from the floor. Standing water can damage the flooring and cause unsightly stains and an unhygienic appearance. A floor drain will prevent these stains from forming and make cleaning easier.
A typical floor drain will have two openings. The first hole starts in the drain area, and the second hole leads to the main drain pipe. Some all-in-one floor drains may have separate clean-out pipes. The main drain opening may be located on the interior of the bathroom. This opening will lead to a U-shaped pipe with a larger diameter. A trap is necessary in floor drains to prevent odors from spreading from the room.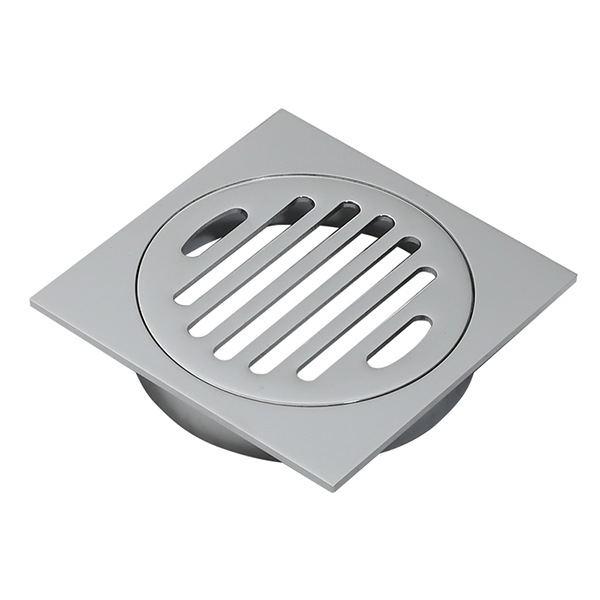 | | |
| --- | --- |
| Material | Brass H57 |
| Size | 110X110mm |
| Outlet | 100mm |
| Surface Finished | Chrome Plated, ORB |
| Customization | All size accepted by custom made. |
| Cetificate | ISO9001:2008, WATERMARK |
| Warranty | 20 years Guarantee |